Ever wondered how to make compost tea?
"Compost tea is an effective, low-strength, natural fertilizer for seedlings and garden plants, and it can suppress fungal plant diseases. The tea-brewing process extracts, and in some cases grows and multiplies, nutrients and beneficial bacteria and fungi from compost and suspends them in water in a form that makes them quickly available to plants."-Organic Gardening
Compost tea is great for your garden, and it is easy to make to! You can purchase bags of compost tea at the store, or you can just make your own.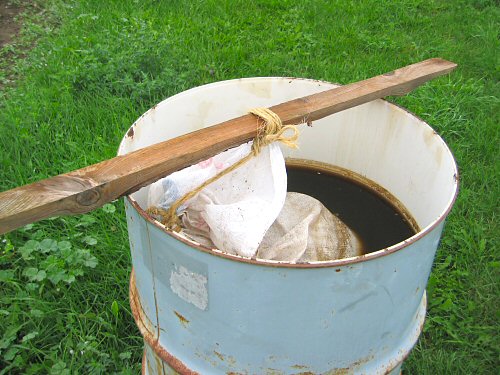 How to Make Compost Tea
There are two ways that you can do this.
1. You can place compost and water in a barrel or container with a 1 pound compost to 1 gallon water ratio. Stir your mixture with a stick for about 5 days. Strain the liquid from your mixture with cheesecloth or burlap.
2. You can also place your compost into a porous bag or nylons, using it as a tea bag. Place the bagged compost into a bucket of water and let it steep for several days.
Use the compost tea all over the garden. Your plants will love it!
Compost Tea Tips
1. When you brew compost tea, be sure to use mature, sweet, earthy-smelling compost. If your compost smells unpleasant, it could be anaerobic, and few beneficial microbes survive in this environment.
2. Don't apply compost tea to any vegetable within 3 weeks of its planned harvest date.
3. You can add extra nutrients to your compost tea like molasses, seaweed, or fish emulsion.